Are You Stuck for IDEAS on making Halloween Costumes or Decorations?....
"Eighty Years ago your great grandparents had the same problem and so a Crepe Paper manufacturer published a Solution"
The Simple System outlined in their vintage booklet used Crepe Paper to produce Cheap and Colorful Costumes and Decorations that anyone could create
From: Robert Scott
Date: Thursday, October 5th 2006
Re: Halloween Costumes and Decorations

Dear Friend,
If you're anything like me you have problems with generating ideas. Inspiration just seems to vanish when I need it most - but give me a picture as a starting point and dozens of ideas come to mind. I can take an existing idea and adapt or improve it without any problem at all. All I need is a starting point or some general instructions. If you're like me "Halloween Ideas" will get your creative juices flowing.

We have republished the Crepe Paper manufacturer's Vintage Publication as a downloadable book and added some Bonuses containing extra information.
Create Stunning Costumes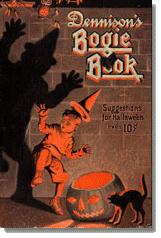 There are 12 different costumes for adults or children plus mask and hat making ideas, all illustrated in 4 colors. As you read every word of "Halloween Ideas" you will be stunned by how quickly and easily you can make beautiful good halloween costumes without spending a fortune.
Owl Costume
Slip-over
Gnome Costume
Gipsy Costume
Harlequin Costume
Pumpkin Slip-over
Pirate Costume
Folly Costume
Pumpkin Costume
Witch Costume
Owl Jumper
Baby Bat
Decorations Create Atmosphere
Costumes are just one half of a successful halloween party. Decor is just as important as it helps create and add to the atmosphere of the party. Decorating the room and tables adds a whole new dimension of excitement. Heck, you can even decorate the outside of the house as well!

'Halloween Ideas' has lots of decor ideas - for hall, stage, house, or garage. Even posts, balconies, lanterns and chandeliers
Invitations, Place Cards, Favors etc.
The little touches can help to create a special and memorable event. Things like invitations, place cards, table favors, menus, serving cups and Jack Horner pies. There are lots of fully illustrated ideas that are sure to delight. There's even a life-size crepe paper turkey to make!
Dance and Game Ideas
Decorating a dance hall and favors and features for the dance make it special, so you'll love these ideas.

Halloween is the one time in the year when games and tricks which have been passed down the generations are used again. The traditional ways of determining the fate of the coming year, as well as settling the great question of one's future partner, must be tried anew each year. 'Halloween Ideas' contains many traditional games and stunts that can be combined with modern ones for variety.
What Does "Halloween Ideas" Contain?
You will receive a digital downloadable copy of the original 33 page "Bogie Book" plus 2 Bonuses. Here is an outline of the Contents:


| | |
| --- | --- |
| | 12 Different Halloween Costumes - 4 costume ideas for Men or Boys and 8 for Ladies or Girls |
| | House Decorating - Ideas for decorating the Living Room |
| | Black Cat Themed Party - Table decoration and party ideas with a Black Cat theme |
| | Refreshment and Supper Tables - Halloween table covers and decorations |
| | Garage Decorating - Gobolink Party ideas and decorations |
| | Table Decorations - Ideas for serving cups, place cards, favors, and Jack Horner pies |
| | Lantern Decorations - Ideas for decorating ceiling lights |
| | Hall Decorating - Ideas for chandelier, ceiling, window, and stage decorations |
| | Dance on Oct 31 - Invitations, favors and features for the dance |
| | Games and Stunts - Games and tricks which have been passed down from olden times |
| | Instructions for using Crepe Paper - Working with crepe paper to make costumes and decorations |
| | Harvest Party Decorations - Appropriate for Halloween or Thanksgiving |
| | Thanksgiving Decorations - Table dressing and a crepe paper turkey decoration |
| | Bonus 1 - Halloween Clip Art and Cutouts: 5 pages |
| | Bonus 2 - More detailed instructions on using crepe paper, plus another costume: 9 pages |
'Halloween Ideas' will solve all your inspiration problems. In minutes you will have dozens of ideas to work on. The hard part now will be deciding which of the many ideas to use!
"Halloween Ideas" is a downloadable book in PDF format. The cost is only $7.00 You can read it on your computer or print it out. Being a PDF means it can be read by both PC's and Mac's. All you need is the Free Adobe Acrobat Reader software that you most probably already have. If you don't have Adobe Reader we provide a link where you can download it.

NOTES: 1. NOT suitable for WebTV users, 2. The file size is 12.09MB - this won't be a problem for broadband or cable users but if you are on a 'dial up' connection we recommend using a Download Manager.
Click on the Link below to access ClickBank's Secure Order Form and pay by Credit Card, Debit Card, eCheck, or PayPal.
"Halloween Ideas" is available for IMMEDIATE DOWNLOAD following Payment.





Clickbank sells our products - they are a trusted online retailer specializing in digitally delivered products.

Sincerely,



Robert Scott
P.S. Your Clip Art and Additional Costume plus Detailed Instructions Bonuses are included in the Download. Everything is in the one file.
P.P.S. If you could find an original 1923 copy of this rare publication it would cost you over $100!
---
Copyright ©2006 1920-30.com All Rights Reserved.
Email:
support2@1920-30.com
81B Marine Parade, Seacliff, Australia 5049