Antique Drapery Rods from the 1930's
Antique Drapery Rods of the 1930's are characterised by those rods made by the Kirsch Company of Michigan. Here is a selection taken from their catalogue.
EXAMPLES OF ANTIQUE DRAPERY RODS FROM THE KIRSCH RANGE OF THE 1930's
KIRSCHKRAFT Cut-to-Measure Flat Rods are in good proportion to the window, which means attractive appearance. They are cut to measure and assembled to fit your windows.
The standard finishes of KirschKraft StippleTone Cut-to-Measure Rod are: brass (15), statuary bronze (80), and old ivory (17). All finishes are rust-proof and guaranteed against tarnishing or peeling.
This is the only drapery hardware adapted to the proper draping treatment of present day steel casement windows with or without plaster trim. Truly modern in every respect.
It is furnished with or without traverse (draw cord) equipment. We urge you to seriously consider the traversed rod, (necessary slides, pulleys and weights assembled with Kirsch- Kraft Cut-to-Measure Rod so draperies and curtains may be opened or closed with a touch of the hidden cord).
KirschKraft Cut-to-Measure Rods fitted with traverse equipment are not expensive. With all its advantages, this truly modern equipment costs no more per installation than old fashioned round rods with draw cords.
Where curtains are shirred, KirschKraft Cut-to-Measure Rod, because of its flat shape, supports and keeps the French headings erect. This does away with the annoying drooping of headings so common on round rodding.
Drapery Decorating
|
Choosing Drapery Fabric
|
House Draperies
|
Drapery Fabric
|
Drapery Designs and Textures
|
Buying Drapery Fabrics
|
Drapery Cleaning
|
Drapery FAQ
|
Antique Drapery Rods
|
Kirsch Drapery Rods
|
Theatrical Drapery
|
Theatre Curtains
|
Theatre Remodeling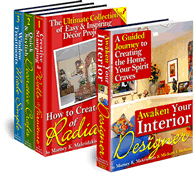 "Finally! Step-by-Step Guidebooks Show You Exactly -- With 1037 Color Photos and Illustrations -- How to Create Beautiful and Inspiring Rooms, Even If Your Time and Budget are Limited...100% Guaranteed!"
The Awaken Your Interior Designer! Collection is available for instant download. You can start decorating right away.
Click Here Now To Order By Credit Card Using Our SECURE Server! Only $27