Choosing Drapery Fabric for Home Decoration
More than one hundred different fabrics are used for home furnishings. In order to know which of these are correct for special purposes, one must keep informed as to new fabrics as well as to new combinations of standard fabrics. The department and furniture stores, and the rooms they maintain for exhibition purposes, are invaluable aids in planning fabric decorations and in determining the kind of fabrics to use. The home furnishings magazines are also very helpful, as are the magazine advertisements showing interiors; and last, but not least, there are the booklets prepared by manufacturers, which give not only ideas as to what fabrics to use for different purposes, but how to arrange such fabrics attractively and correctly.
When we have visualized the right type of decorations for the room, we should get samples of appropriate fabrics from local stores. All this will give inspiration, and help us to form definite plans about what to buy and make.
When one considers the economy and satisfaction of making one's own home furnishings, there is every advantage in learning the correct way to measure, cut, finish, and place curtains and draperies, as well as to shape fabrics to form coverings for chairs, beds, dressing tables, and cushions.
As the current aids already listed serve to give ideas and inspiration in designing new draperies and other fabric furnishings, we will confine ourselves chiefly to the technique of cutting, making, and finishing, so that no matter what is to be made in the way of home furnishings, correct instructions easy to understand and follow, will be readily available.
Drapery Decorating
|
Choosing Drapery Fabric
|
House Draperies
|
Drapery Fabric
|
Drapery Designs and Textures
|
Buying Drapery Fabrics
|
Drapery Cleaning
|
Drapery FAQ
|
Antique Drapery Rods
|
Kirsch Drapery Rods
|
Theatrical Drapery
|
Theatre Curtains
|
Theatre Remodeling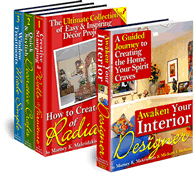 "Finally! Step-by-Step Guidebooks Show You Exactly -- With 1037 Color Photos and Illustrations -- How to Create Beautiful and Inspiring Rooms, Even If Your Time and Budget are Limited...100% Guaranteed!"
The Awaken Your Interior Designer! Collection is available for instant download. You can start decorating right away.
Click Here Now To Order By Credit Card Using Our SECURE Server! Only $27