Fabric Designs for Home Use
Avoid using too much of one fabric in a room; for example, rather than have draperies and slip covers of the same design, it is better to have one plain and the other figured. This is particularly true if figured wall paper or floor covering is used, when inconspicuous fabric furnishings are necessary.
Much care and thought should be exercised in suiting designed fabrics to rooms that have design in wall paper and floor covering. While draperies rarely are darker than the floor covering, they likewise should not be lighter than the walls, unless a very definite contrast is desired. One of the great advantages of draperies is the opportunity they give for agreeable contrast.
Remember that the size of a room may be materially affected by the choice of patterned fabrics. Large-patterned, heavy fabrics will decrease the size of a room. Small rooms need limp, plain or small-patterned fabrics.
Consider the proportions of your room when deciding to add height or width to the windows. Rooms with low ceilings can gain height by the use of long, slender, plain or striped draperies; those with high ceilings may appear shorter by the use of large motifs in the fabric. (See also page 12 for suggestions for actually adding height and width to windows.)
Fabric Textures.
Although color is considered of first importance in draperies, texture should not be overlooked. Wrong combinations of textures will prove disappointing, particularly if the fabric itself is found to be too coarse or too dainty for the room and its fittings, or too heavy or too light for the time of the year.
Experiment with fabric combinations by samples before deciding definitely to make them. We know that a silk voile glass curtain is right with a taffeta drapery, that plain voile and organdie are likewise correct together, that coarse net and tapestry, and marquisette or voile and cretonne are usable together; but monk's cloth and voile do not agree, nor do taffeta and theatrical gauze. Correct combinations are as important for textures as for colors; one must complement the other, never detract from it.
Drapery Decorating
|
Choosing Drapery Fabric
|
House Draperies
|
Drapery Fabric
|
Drapery Designs and Textures
|
Buying Drapery Fabrics
|
Drapery Cleaning
|
Drapery FAQ
|
Antique Drapery Rods
|
Kirsch Drapery Rods
|
Theatrical Drapery
|
Theatre Curtains
|
Theatre Remodeling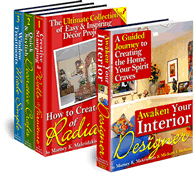 "Finally! Step-by-Step Guidebooks Show You Exactly -- With 1037 Color Photos and Illustrations -- How to Create Beautiful and Inspiring Rooms, Even If Your Time and Budget are Limited...100% Guaranteed!"
The Awaken Your Interior Designer! Collection is available for instant download. You can start decorating right away.
Click Here Now To Order By Credit Card Using Our SECURE Server! Only $27