Tips for Buying Drapery Fabrics
Drapery fabrics rather than dress fabrics are invariably better suited to draperies, especially in texture and color. Fabrics of similar weight and texture often cost less in the drapery department than in the dress fabric department, and the designs are usually more suitable.
There are, however, many fabrics obtainable in the dress fabric department that are desirable to use, such as calico, gingham, unbleached muslin and organdie. On the other hand, dotted Swiss, silks for draperies, cretonnes and casement cloths should be purchased in the drapery department.
You can easily figure that the fabric furnishings you make yourself will cost, at the very most, less than one-third as much as to have them made for you. One often sees draperies so exquisitely made as to be worth ten times the fabric cost. However, if the yardage cost of the draperies that interest you is too much, remember that you can get similar effects in less expensive materials. Set out to get samples of these, working all the while for the correct color, texture and line that will fit in with your plans.
In substituting less expensive fabrics, remember that there are many interesting tapestry or brocade effects in cotton and rayon that cost much less than such fabrics in silk or wool. Cotton voile, cheesecloth, or theatrical gauze can easily be substituted for silk or rayon voile.
Blocked linen is often imitated in very smart, inexpensive cottons. Osnaburg, cotton homespun, is excellent for casement windows and costs much less than silk or wool casement cloth. Glazed chintz can often be used in place of taffeta, crisp lawn or domestic organdie instead of imported organdie, calico for chintz, denim for linen.
The price per yard of many fabrics is so small, however, that the cost need hardly be considered. It is surprising what charming and wholly satisfactory effects can be obtained from cheesecloth and simple, inexpensive printed calico.
Unbleached muslin and osnaburg are other inexpensive yet wholly practical fabrics for window decorations.
Drapery Decorating
|
Choosing Drapery Fabric
|
House Draperies
|
Drapery Fabric
|
Drapery Designs and Textures
|
Buying Drapery Fabrics
|
Drapery Cleaning
|
Drapery FAQ
|
Antique Drapery Rods
|
Kirsch Drapery Rods
|
Theatrical Drapery
|
Theatre Curtains
|
Theatre Remodeling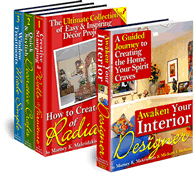 "Finally! Step-by-Step Guidebooks Show You Exactly -- With 1037 Color Photos and Illustrations -- How to Create Beautiful and Inspiring Rooms, Even If Your Time and Budget are Limited...100% Guaranteed!"
The Awaken Your Interior Designer! Collection is available for instant download. You can start decorating right away.
Click Here Now To Order By Credit Card Using Our SECURE Server! Only $27