Drapery Cleaning Instructions
Having curtains and draperies cleaned frequently not only is expensive but is wearing on the fabrics. Most curtains and many drapery fabrics can be laundered safely at home.
Before laundering, shake curtains or draperies to remove dust, and soak in cold water for one or two hours to loosen starch in the materials. Rinse in warm water.
Into a gallon of boiling water, pour two tablespoonfuls of white, pure soap flakes. Add about two gallons of cold water and beat up a thick suds. Add one teaspoonful of ammonia for each gallon of water used. Ammonia helps the soap to remove any grease which may be present. When washing medium or heavy weight fabrics which are badly soiled, a teaspoonful of sal soda crystals may be used instead of the ammonia.
Printed or colored materials should be washed in luke-warm suds, using a mild soap. Fabrics of this sort should never be allowed to soak or remain bunched together while wet as the colors are likely to run into one another. (The fastness of colors can be determined only by testing a piece of the material.)
Curtains may be soaked, but in the case of cretonnes and silks, it is better to put the articles through a second washing if the dirt proves stubborn.
In washing, plunge the article into the suds and gently swirl it around, squeezing the suds through it.
Squeeze the suds out without wringing; put through several lukewarm rinsings; then wrap in a towel and squeeze as dry as possible without twisting.
All soap must be thoroughly rinsed from the well cleansed materials before putting them into a weak starch water. (Curtains that are starched will not become so imbedded with dirt.) When the goods are thoroughly permeated with the starch, remove and squeeze evenly between the hands before hanging on a line or placing on a frame to dry. Hang smoothly to prevent wrinkles and streaks.
Iron with a medium hot iron. Silks should be ironed in one direction only, to prevent "bubbling."
Laundering Cretonnes
Plan to wash each article of chintz or cretonne separately, for while most of them are fairly color- fast, it is not wise to take a chance.
Make a soap solution similar to that above. Use a sousing motion, as rubbing tends to spread the color. Rinse thoroughly in lukewarm water. Put through the wringer as straight as possible, and shake out.
Stiffen with a weak starch or gum arabic solution. Because starch may leave a white look on cretonnes with black or dark backgrounds, gum arabic solution is better for them. (Make this by dissolving two teaspoonfuls of gum arabic in one quart of hot water and allow to cool until lukewarm.) Dip the cretonne into the solution and wring out as well as possible. Pat between the hands to work the remaining gum arabic into the fabric.
The important thing in drying cretonnes is to prevent colors from running. This is done by rolling the cretonne like a jelly roll, with a piece of soft cotton cloth for the "jelly", the whole thing being so rolled that at no point do two layers of cretonne touch. When partly dry, the danger of colors running is past, when the cretonne may be unrolled and dried in the open air. It should be ironed on the wrong side before completely dry. Care should be taken to use an iron that is not too hot.
Instructions for Dyeing
Before being dyed, curtains and drapery fabrics must be thoroughly cleansed as the presence of all forms of dirt, especially grease, tends to prevent the absorption of the dye and causes uneven results.
If curtains or draperies are unevenly faded, it will be necessary to remove most of the old coloring. If the material contains silk or wool, boil it in water containing two tablespoonfuls of ammonia per gallon, but if the material is cotton, linen or rayon, or a mixture of any of these, two tablespoonfuls of sal soda per gallon of water will be more effective in removing old color.
In dyeing drapery materials, it is not necessary to boil them in the dye unless they are to be washed or exposed to the sun. Make a solution of hot water and of one or several dyes mixed together to get the shade desired. After testing the color with a bit of the material, or something similar, — silk for silk, cotton for cotton, wool for wool, proceed with the dyeing. The more often the article is dipped, the more dye it takes up and the darker it will be.
Do not allow materials to lie in the dye solution or they will be streaked and spotted because the dye settles in the bottom of the tub. The vessel used must be sufficiently large to allow easy working of the materials. Keep them moving and do not wring them out. (Owing to their delicate structure, curtains must be handled very gently to avoid punching holes in their web-like weave.) Press out as much of the liquid as possible.
If curtains or drapery fabrics are to be starched, add a little of the strong dye solution to the starch water, because white starch may give them a grayish appearance. The starch for light tints requires no such treatment.
Dyed materials should be hung in the shade to dry.
Opaque glass curtains such as pongee, fine nets, scrims, and voile, or small figured casement nets, wear well. When they become faded, a dip into strong tea or coffee or a good dye solution will restore them to new freshness.
Drapery Decorating
|
Choosing Drapery Fabric
|
House Draperies
|
Drapery Fabric
|
Drapery Designs and Textures
|
Buying Drapery Fabrics
|
Drapery Cleaning
|
Drapery FAQ
|
Antique Drapery Rods
|
Kirsch Drapery Rods
|
Theatrical Drapery
|
Theatre Curtains
|
Theatre Remodeling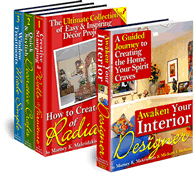 "Finally! Step-by-Step Guidebooks Show You Exactly -- With 1037 Color Photos and Illustrations -- How to Create Beautiful and Inspiring Rooms, Even If Your Time and Budget are Limited...100% Guaranteed!"
The Awaken Your Interior Designer! Collection is available for instant download. You can start decorating right away.
Click Here Now To Order By Credit Card Using Our SECURE Server! Only $27